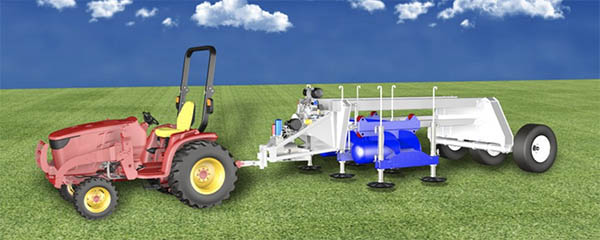 GT AirInject will unveil two new prototypes to compliment the Air2G2, which itself is receiving a refresh for GIS San Antonio.
The Air2G2 636 tractor-mounted unit incorporates the Air2G2 air-injection technology that fractures compacted soils in a larger unit. Also on display in booths 16121 and 2097 will be the Air2GO transportation shuttle trailer.
The Air2G2 636 is a tractor-mounted unit with the same Air2G2 air-injection technology, but with six probes spaced 36 inches apart. While staying in constant motion, the Air2G2 636 allows golf course superintendents to cover more ground in less time, and can be used for larger turfed areas, such as fairways, sports fields and sod farms.
Transporting the Air2G2 324 between greens or fairways is now easier than ever with the Air2GO, a custom-fit shuttle trailer that automatically secures the Air2G2 324.
With each blast of compressed air, the Air2G2 air-injection process relieves compaction, increases porosity and promotes gas exchange in the soil to a depth of 12 inches and a diameter of 9 feet.