Update:
Gordon passed away on December 16. This "tribute in honor of" is now a "tribute in memory of". Please consider contributing. – PLM
Gordon's health has taken a turn for the worse so this blog is unfortunately on hiatus until he regains his strength and gets back on his feet.
For several years Gordon has battled chronic leukemia, which has recently been complicated by diabetes and arthritis — thus necessitating a hospital stay.  He is back at his Toronto-area home now.
In all adversity, however, there is opportunity… and we at TurfNet thought this an opportune time to thank and honor Gordon for not only his 15 years of contributions to TurfNet as an active Forum participant, columnist and now blogger… but primarily for his lifelong commitment to the profession of greenkeeping (as he prefers to call his craft).  So, we are pleased to announce…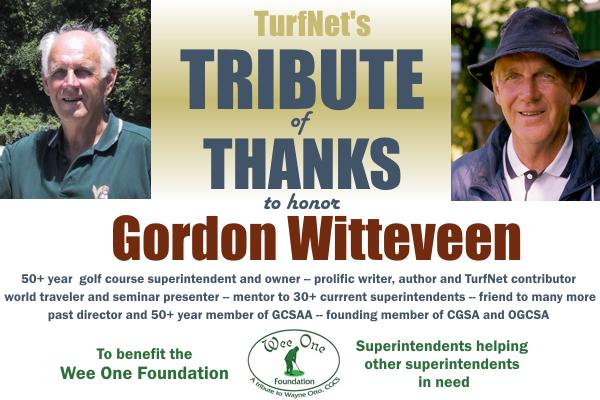 We ask you to join us in honoring Gordon while helping superintendents in need by sending a contribution to the Wee One Foundation, with a note "Tribute to Gordon Witteveen".
The Wee One Foundation was founded in 2004 as a tribute to the late Wayne Otto, CGCS,  to assist golf course management professionals (or their dependents) who incur overwhelming expenses due to medical hardship without comprehensive insurance or adequate financial resources.  Wayne lost his battle with cancer in October, 2004, but through the Foundation his dedication to the betterment of the golf maintenance profession and the individuals who shared his passion live on.
TurfNet has kicked off the Tribute with a $1000 contribution, and we hope that you — in the spirit of the season — will find a spare $10, $25, $50 or $100 in your wallet to honor two special men — Gordon and Wayne — while helping a charity founded and managed by superintendents to help other superintendents (or their families) in need. Please note that Gordon will not receive any of these funds directly, as he is financially secure, and as a Canadian his medical care is provided for.
We encourage you to join the Wee One Foundation as a member ($75 annually plus optional donation) or simply make a one-time donation of $10 or more.  Please don't forget to include "Tribute to Gordon Witteveen" in the Donation note box.
Even if you're currently a member of or contributor to the Wee One Foundation, if you have enjoyed Gordon's writing, worked for him, taken one of his "Magic of Greenkeeping" seminars or have learned from him in other ways please consider another donation in his name.
Many thanks,



TurfNet Founder & Maestro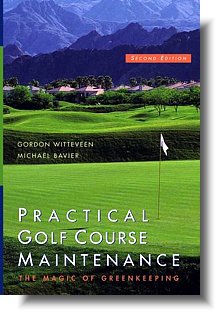 As one grows older in retirement the phone stops to ring, emails come less frequently and the truth sinks in that one is becoming less relevant. It is inevitable with the passing of time. And then a pleasant surprise comes along in the mail. A few days ago from Wiley Publishing came a sales report that 660 copies of our book Practical Golf Course Maintenance had been sold during a six month period from March 1 – August 30 of this year… and that is remarkable.
Practical Golf Course Maintenance first came off the presses in the fall of 1998. My co-author, GCSAA past president Michael Bavier, and I met at Sleeping Bear Press, the original publisher in Michigan. Each of us bought 500 copies to get the ball rolling. We sold them quickly to our friends in Illinois and Ontario and TurfNet land. Then we ordered more.  Meanwhile, Sleeping Bear Press promoted the book extensively, and it received a number of positive  reviews in trade journals.  That boosted sales. Sleeping Bear was bought out by Wiley Publishing and that meant more sales.
Next we took the book on the road. While we preached The Magic of Greenkeeping seminar, we always had a few boxes of autographed books around to sell to our students. The seminar was presented not only all over the United States and Canada, but also Australia, New Zealand, Africa, Europe, Colombia, Venezuela and Mexico. It was in Mexico that I met an excellent translator that resulted in a Spanish edition.
I expected sales to drop but they continued, albeit at a slower pace. In total close to 17,000 copies are now in circulation…
A few years later, we updated the book to a second edition and sales continued strong. We even shipped some to China and Korea. By that time the electronic age had arrived and the book became available on the internet. I expected sales to drop but they continued, albeit at a slower pace. In total close to 17,000 copies are now in circulation. I wonder how that compares with other turf books such as those by Dr. Jim Beard or Dr. Mike Hurdzan.
Should you still want a copy for your personal library, your green chairman, your staff or a friend, it would make a great Christmas present. It is available direct from Wiley.com, or you can buy directly from the authors. I can ship autographed copies from Canada at $55 plus shipping costs. Simply contact me by email: gordon.witteveen@sympatico.ca.
And, I must hasten to add that it includes the sisters that are joining our group in ever-increasing numbers. Colonel Morley, our founder in 1926, realized the importance of fellowship and mutual support and it has been so ever since.
In my travels to many different countries, I have sought out superintendents and enjoyed their company because we have this common bond that immediately removes barriers. We speak of the grass, the golf course, green committees and whatever else comes to mind relating to our work.  In the process we learn from each other and become strengthened through mutual support.
We speak of the grass, the golf course, green committees and whatever else comes to mind relating to our work.  In the process we learn from each other and become strengthened through mutual support.
Recently a fellow superintendent in the Greater Toronto Area, a young man in his mid forties, a man with a wife, a daughter going to college and a house with a mortgage, was diagnosed with leukemia. The doctors tried all manner and means to cure the sickness with medication and chemotherapy but to no avail. During this period he could still function and perform his superintendent's duties normally. As a last resort the hematologists decided that the only option left was a bone marrow transplant. At that point, he had to turn his superintendent duties over to his assistant.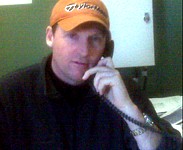 In early July, John Trelford entered Prince Margaret Hospital in downtown Toronto, the main cancer hospital in the province and about sixty  miles from where he lives. He has been in and out of the hospital ever since, often staying overnight in a nearby hotel and always with his wife at his side. One of the owners of the club where he works picks up the hotel bills.
In the meantime, the brotherhood of superintendents and several others have come forth and raised thousands of dollars to assist a needy colleague. While his medical expenses were fully covered by our provincial health insurance system, there were many additional costs that were not.
The recovery has been slow and there have been occasional setbacks, but he expects to get back to work next spring. I firmly believe that the support and encouragement he received from the brotherhood of superintendents and the industry as a whole have been (and continue to be) an important factor in his recovery.
If you wish to send John a note of encouragement you can contact him at j.trelford@sympatico.ca or leave a message on the message board at www.friendsofjohntrelford.com.  Contributions are welcome as well. As his website states, "Skip one case of beer, a few bottles of wine or a dinner out this month and donate that money to ease the financial burden and stress on John and his family…"
* * * * *
A few years ago, a prominent Wisconsin superintendent, Wayne Otto, CGCS, lost his battle with cancer. It shocked his friends into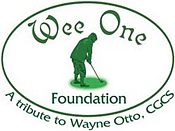 action.  They started the Wee-One Foundation – aptly named because Wayne Otto was small of stature but large of spirit – as a tribute to their friend but also to raise money to help superintendents all across America who have incurred overwhelming medical expenses beyond which insurance would cover.  This was very much in the spirit of the brotherhood that I have been talking about. The Wee One Foundation has raised hundreds of thousands of dollars to help superintendents in need, not just in Wisconsin but far and away beyond.
Visit their website and make a donation to help a colleague in need.   http://www.weeone.org/
We live in a large metropolitan area together with four million other people… a busy, booming metropolis with trucks and busses on the main roads and cranes in the skyline. In contrast, our street is quiet and peaceful. It has no sidewalks and dead-ends in a large cul-de-sac.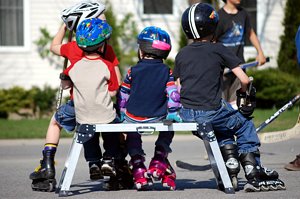 Most of our neighbors have young families. The little kids play freely on the street without worrying about cars. They ride their bicycles, roller skate, toss balls and frisbees and the little ones play with dolls. They love to use colored chalk to draw pictures and crazy designs on the asphalt. In the heat of summer they put on their bathing suits and run through sprinklers and over water slides. When they get tired of it all they come knocking on the door and sing songs or sell lemonade.
While some of our neighbors play golf occasionally at public fee courses, none (other than my wife and I) belong to private clubs. These men and women are devoted to their families, and golf is not a high priority. There are several stay-at-home mothers but in most cases both parents work. After school and on weekends, kids partake in other activities such as hockey, karate and dancing, but mostly they play on the street with their friends.
It is not surprising that in multicultural Toronto my next door neighbor was born in Tehran. He fought in the Iran-Iraqi war, came to Canada, married a woman from Portugal, and their two daughters go to a Catholic school. Other neighbors hail from Russia, India, Lebanon, Jamaica and Trinidad, to name but a few.
On our street in Florida, where we live during the winter, virtually all our neighbors are retired American folks and Canadians are a distinct minority. Except for a Dutch couple, there are no other foreigners. The only time we get to see kids is when they come to visit their grandparents during school breaks and at Christmas time. Many of our Florida friends have lost their spouses and keep a small dog for companionship. Early in the morning and again in late afternoon, they walk their 'dustmops'. It gets the old folks out of their homes and talking to their neighbors.
As the denizens in our Florida community get older, however, they give up on golf but many continue to hawk balls on the course…
Many of our Florida neighbors are active golfers. In fact, we live on a golf course about a half hour from Tampa airport. As the denizens in our Florida community get older, however, they give up on golf but many continue to hawk balls on the course. During garage sales in the spring, there are baskets of balls and also sets of clubs for sale at bargain basement prices. We have a community center with an Olympic size pool and all sorts of activities, including a weekly poker game. There is none of that on our street in Canada.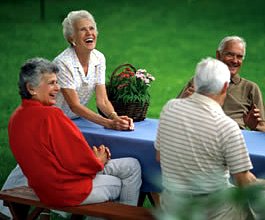 Five years ago we started a street BBQ in the neighborhood. Because we have a large lot with shade trees, our place was deemed most suitable and we have hosted it ever since. It's been a huge success that people look forward to. Everyone brings something like a salad or a dessert. We cook burgers and hotdogs. There is always too much to eat. Most importantly, it gets people out of their houses and talking to each other.
The success of our Florida BBQ inspired us to do the same on our street in Canada. It was well received and will become an annual event.
Finally, in both Canada and Florida, I no longer cut the grass. Strong men trim the St Augustine turf in Florida and the bluegrass in Canada and I just stand there and watch, just as I always did on the golf course for so many years…
There comes a time when retirement will loom on your professional horizon. It usually happens during your late 50s, and it will prey on your mind as the magical number '65' nears.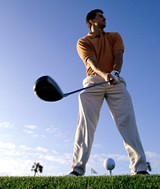 It may be that you are being encouraged to go sooner, rather than later, by the new generation of golfers who feel rightly or wrongly that you have not kept up with the times. They are anxious to move you out and replace you with the talented new breed of superintendents who will bring faster greens and close cut fairways. If you have not felt these vibes in your later years, you are probably part of a small minority who live in never-never land.
It has been eleven years since I retired. I had been feeling the pressures of a small number of malcontents — mostly A flight players — who wanted new blood in the Turf Care Center. I resisted this group until I turned 65, and then departed in a blaze of glory. Everybody loves you when you leave. They even made me an honorary member… a questionable benefit since in some jurisdictions it is taxable benefit (check it out)! One month later I cashed my first pension check.
For 27 years I had contributed to the club newsletter, writing mostly about greenkeeping, the wildlife and the beauty of the landscape. Following is my 'swan song' written during the last summer of the 20th century:
"This is my last article for the golfers of the Toronto Board of Trade Country Club. I look back with great satisfaction at all the work we have done since my arrival in early 1973. There is no greater joy than to see the results of one's efforts. At times on my walks over the course, I climbed to the promontory behind the seventh green to where the statue of a golfer once stood. I would sit on the remaining stump and look out over the valley. It's a majestic view of vast green spaces, of groves of trees and a pond sparkling in the sunshine.

Many members have asked me if I will miss the golf courses (45 holes) once I am gone? Of course I will. I'll miss the quiet mornings at dawn before the golfers arrive. I'll miss touching freshly mowed greens before they have been played on and the sight of neatly cut fairways, with light and dark colored stripes in perfect parallel.
Most of all, I'll miss the song of birds perched on trees that I have planted, and the flight of red-tailed hawks as they circle overhead looking for prey in the Audubon rough below.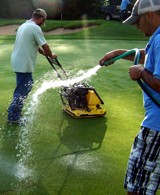 I'll also miss the inspiring company of energetic young men and women who have toiled on our courses to make them a better place to play on. However I swear I will not miss that despicable 11th green. I am convinced that it has been hexed by the ghost of my predecessor. We have repaired and rebuilt it numerous times but to no avail. In spite of all our greenkeeping skills, the 11th has never quite measured up to the other greens.
Finally, I will miss the friendly faces of all the golfers who came out day after day and offered words of encouragement when the going was tough. I especially want to thank the many members who enjoyed my writing in the newsletter. It started me on a second career as writer of hundreds of articles and several books, a career that is still in progress."
Of course, I did not really retire. I had acquired ownership of a lovely piece land on which we built a 9-hole course, but that's another story.