The name of Jim Arthur has recently popped up on the TurfNet.com Forum. Since I have met the man and listened to his lectures, I checked into his life history.

Jim Arthur was born in England in 1921, studied agriculture but dropped out of school to join the British Army during WW II and reached the rank of captain. He is reputed to have been a crack sharpshooter who shot down a German plane with a machine gun. An ankle injury prevented him from continuing active duty and instead he focused on training other soldiers.
After the war he continued his studies and upon completion joined a seed company, then started his own landscaping business. As a sideline he consulted on the maintenance of golf courses, including the Royal and Ancient Golf Club at St. Andrews. As his reputation grew, he often supervised the preparation of golf courses for national and international golf competitions. As a consultant he spoke out against the use of fertilizers and pesticides, and recommended restraint in watering. "Turn off the tap, lock the fertilizer shed and throw away the key" was Arthur's standard recommendation.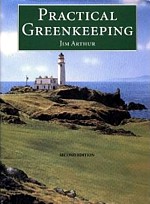 He wrote the book Practical Greenkeeping that was published in England in 1997 and detailed his philosophy on golf course maintenance in Great Britain.
Arthur was also a frequent speaker at golf course conferences in England and Scotland. It was at one such meeting that GCSAA past President Mel Lucas attended his lecture. According to Mel, "Jim was a very controversial British golf course advisor who disdained most anything American – but especially our golf courses."
A year or so later, I attended a similar conference in England and my presentation was followed by one of the renowned Jim Arthur. Since by then I had become aware of Mr. Arthur's sharp tongue, I toned down my speech and escaped his wrath, possibly also because I was Canadian.
"Turn off the tap, lock the fertilizer shed and throw away the key" was Arthur's standard recommendation.
That same year Sleeping Bear Press, publishers in Michigan, sent me a copy of Arthur's book and asked for a private review for the purpose of possibly publishing the book in America. I read the book from cover to cover and thought that it needed serious editing and that the content would be of limited interest to American readers. To the best of my knowledge the Arthur book has not been published in America but is still available on Amazon UK.
It seems that since his death in 2005, Jim Arthur's philosophy of greenkeeping has gained adherents in America among them several prominent TurfNetters. Time will tell if this is just another fad like squared tee boxes and striped fairways or if Arthur's legacy will become commonplace on courses on this side of the Atlantic.