There comes a time when retirement will loom on your professional horizon. It usually happens during your late 50s, and it will prey on your mind as the magical number '65' nears.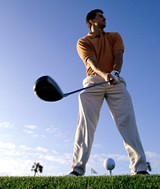 It may be that you are being encouraged to go sooner, rather than later, by the new generation of golfers who feel rightly or wrongly that you have not kept up with the times. They are anxious to move you out and replace you with the talented new breed of superintendents who will bring faster greens and close cut fairways. If you have not felt these vibes in your later years, you are probably part of a small minority who live in never-never land.
It has been eleven years since I retired. I had been feeling the pressures of a small number of malcontents — mostly A flight players — who wanted new blood in the Turf Care Center. I resisted this group until I turned 65, and then departed in a blaze of glory. Everybody loves you when you leave. They even made me an honorary member… a questionable benefit since in some jurisdictions it is taxable benefit (check it out)! One month later I cashed my first pension check.
For 27 years I had contributed to the club newsletter, writing mostly about greenkeeping, the wildlife and the beauty of the landscape. Following is my 'swan song' written during the last summer of the 20th century:
"This is my last article for the golfers of the Toronto Board of Trade Country Club. I look back with great satisfaction at all the work we have done since my arrival in early 1973. There is no greater joy than to see the results of one's efforts. At times on my walks over the course, I climbed to the promontory behind the seventh green to where the statue of a golfer once stood. I would sit on the remaining stump and look out over the valley. It's a majestic view of vast green spaces, of groves of trees and a pond sparkling in the sunshine.

Many members have asked me if I will miss the golf courses (45 holes) once I am gone? Of course I will. I'll miss the quiet mornings at dawn before the golfers arrive. I'll miss touching freshly mowed greens before they have been played on and the sight of neatly cut fairways, with light and dark colored stripes in perfect parallel.
Most of all, I'll miss the song of birds perched on trees that I have planted, and the flight of red-tailed hawks as they circle overhead looking for prey in the Audubon rough below.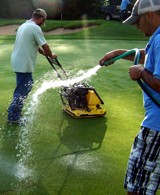 I'll also miss the inspiring company of energetic young men and women who have toiled on our courses to make them a better place to play on. However I swear I will not miss that despicable 11th green. I am convinced that it has been hexed by the ghost of my predecessor. We have repaired and rebuilt it numerous times but to no avail. In spite of all our greenkeeping skills, the 11th has never quite measured up to the other greens.
Finally, I will miss the friendly faces of all the golfers who came out day after day and offered words of encouragement when the going was tough. I especially want to thank the many members who enjoyed my writing in the newsletter. It started me on a second career as writer of hundreds of articles and several books, a career that is still in progress."
Of course, I did not really retire. I had acquired ownership of a lovely piece land on which we built a 9-hole course, but that's another story.
3 Responses to "Retirement…"