We live in a large metropolitan area together with four million other people… a busy, booming metropolis with trucks and busses on the main roads and cranes in the skyline. In contrast, our street is quiet and peaceful. It has no sidewalks and dead-ends in a large cul-de-sac.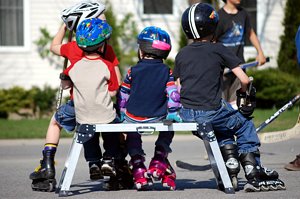 Most of our neighbors have young families. The little kids play freely on the street without worrying about cars. They ride their bicycles, roller skate, toss balls and frisbees and the little ones play with dolls. They love to use colored chalk to draw pictures and crazy designs on the asphalt. In the heat of summer they put on their bathing suits and run through sprinklers and over water slides. When they get tired of it all they come knocking on the door and sing songs or sell lemonade.
While some of our neighbors play golf occasionally at public fee courses, none (other than my wife and I) belong to private clubs. These men and women are devoted to their families, and golf is not a high priority. There are several stay-at-home mothers but in most cases both parents work. After school and on weekends, kids partake in other activities such as hockey, karate and dancing, but mostly they play on the street with their friends.
It is not surprising that in multicultural Toronto my next door neighbor was born in Tehran. He fought in the Iran-Iraqi war, came to Canada, married a woman from Portugal, and their two daughters go to a Catholic school. Other neighbors hail from Russia, India, Lebanon, Jamaica and Trinidad, to name but a few.
On our street in Florida, where we live during the winter, virtually all our neighbors are retired American folks and Canadians are a distinct minority. Except for a Dutch couple, there are no other foreigners. The only time we get to see kids is when they come to visit their grandparents during school breaks and at Christmas time. Many of our Florida friends have lost their spouses and keep a small dog for companionship. Early in the morning and again in late afternoon, they walk their 'dustmops'. It gets the old folks out of their homes and talking to their neighbors.
As the denizens in our Florida community get older, however, they give up on golf but many continue to hawk balls on the course…
Many of our Florida neighbors are active golfers. In fact, we live on a golf course about a half hour from Tampa airport. As the denizens in our Florida community get older, however, they give up on golf but many continue to hawk balls on the course. During garage sales in the spring, there are baskets of balls and also sets of clubs for sale at bargain basement prices. We have a community center with an Olympic size pool and all sorts of activities, including a weekly poker game. There is none of that on our street in Canada.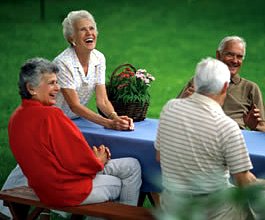 Five years ago we started a street BBQ in the neighborhood. Because we have a large lot with shade trees, our place was deemed most suitable and we have hosted it ever since. It's been a huge success that people look forward to. Everyone brings something like a salad or a dessert. We cook burgers and hotdogs. There is always too much to eat. Most importantly, it gets people out of their houses and talking to each other.
The success of our Florida BBQ inspired us to do the same on our street in Canada. It was well received and will become an annual event.
Finally, in both Canada and Florida, I no longer cut the grass. Strong men trim the St Augustine turf in Florida and the bluegrass in Canada and I just stand there and watch, just as I always did on the golf course for so many years…