Update:
Gordon passed away on December 16. This "tribute in honor of" is now a "tribute in memory of". Please consider contributing. – PLM
Gordon's health has taken a turn for the worse so this blog is unfortunately on hiatus until he regains his strength and gets back on his feet.
For several years Gordon has battled chronic leukemia, which has recently been complicated by diabetes and arthritis — thus necessitating a hospital stay.  He is back at his Toronto-area home now.
In all adversity, however, there is opportunity… and we at TurfNet thought this an opportune time to thank and honor Gordon for not only his 15 years of contributions to TurfNet as an active Forum participant, columnist and now blogger… but primarily for his lifelong commitment to the profession of greenkeeping (as he prefers to call his craft).  So, we are pleased to announce…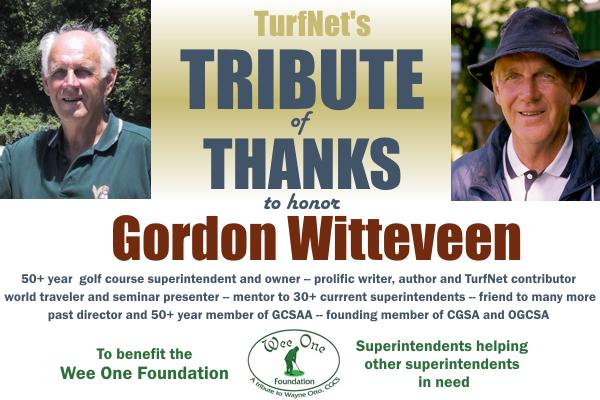 We ask you to join us in honoring Gordon while helping superintendents in need by sending a contribution to the Wee One Foundation, with a note "Tribute to Gordon Witteveen".
The Wee One Foundation was founded in 2004 as a tribute to the late Wayne Otto, CGCS,  to assist golf course management professionals (or their dependents) who incur overwhelming expenses due to medical hardship without comprehensive insurance or adequate financial resources.  Wayne lost his battle with cancer in October, 2004, but through the Foundation his dedication to the betterment of the golf maintenance profession and the individuals who shared his passion live on.
TurfNet has kicked off the Tribute with a $1000 contribution, and we hope that you — in the spirit of the season — will find a spare $10, $25, $50 or $100 in your wallet to honor two special men — Gordon and Wayne — while helping a charity founded and managed by superintendents to help other superintendents (or their families) in need. Please note that Gordon will not receive any of these funds directly, as he is financially secure, and as a Canadian his medical care is provided for.
We encourage you to join the Wee One Foundation as a member ($75 annually plus optional donation) or simply make a one-time donation of $10 or more.  Please don't forget to include "Tribute to Gordon Witteveen" in the Donation note box.
Even if you're currently a member of or contributor to the Wee One Foundation, if you have enjoyed Gordon's writing, worked for him, taken one of his "Magic of Greenkeeping" seminars or have learned from him in other ways please consider another donation in his name.
Many thanks,



TurfNet Founder & Maestro
One Response to "Tribute of thanks to honor Gordon…"