The name of Jim Arthur has recently popped up on the TurfNet.com Forum. Since I have met the man and listened to his lectures, I checked into his life history.

Jim Arthur was born in England in 1921, studied agriculture but dropped out of school to join the British Army during WW II and reached the rank of captain. He is reputed to have been a crack sharpshooter who shot down a German plane with a machine gun. An ankle injury prevented him from continuing active duty and instead he focused on training other soldiers.
After the war he continued his studies and upon completion joined a seed company, then started his own landscaping business. As a sideline he consulted on the maintenance of golf courses, including the Royal and Ancient Golf Club at St. Andrews. As his reputation grew, he often supervised the preparation of golf courses for national and international golf competitions. As a consultant he spoke out against the use of fertilizers and pesticides, and recommended restraint in watering. "Turn off the tap, lock the fertilizer shed and throw away the key" was Arthur's standard recommendation.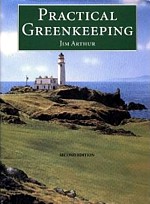 He wrote the book Practical Greenkeeping that was published in England in 1997 and detailed his philosophy on golf course maintenance in Great Britain.
Arthur was also a frequent speaker at golf course conferences in England and Scotland. It was at one such meeting that GCSAA past President Mel Lucas attended his lecture. According to Mel, "Jim was a very controversial British golf course advisor who disdained most anything American – but especially our golf courses."
A year or so later, I attended a similar conference in England and my presentation was followed by one of the renowned Jim Arthur. Since by then I had become aware of Mr. Arthur's sharp tongue, I toned down my speech and escaped his wrath, possibly also because I was Canadian.
"Turn off the tap, lock the fertilizer shed and throw away the key" was Arthur's standard recommendation.
That same year Sleeping Bear Press, publishers in Michigan, sent me a copy of Arthur's book and asked for a private review for the purpose of possibly publishing the book in America. I read the book from cover to cover and thought that it needed serious editing and that the content would be of limited interest to American readers. To the best of my knowledge the Arthur book has not been published in America but is still available on Amazon UK.
It seems that since his death in 2005, Jim Arthur's philosophy of greenkeeping has gained adherents in America among them several prominent TurfNetters. Time will tell if this is just another fad like squared tee boxes and striped fairways or if Arthur's legacy will become commonplace on courses on this side of the Atlantic.
While Green Chairmen are fast becoming an endangered species, they still prevail at private country clubs where the committee system is an important part of governance. For superintendents, it is critical to have a positive relationship with the Green Chairman to ensure professional longevity. During my career I worked with more than a dozen Green Chairmen. Some were good, others not, one was bad and all of them needed educating.
During my career I worked with more than a dozen Green Chairmen. Some were good, others not, one was bad and all of them needed educating.
The bad one thought that the maintenance department was available to improve his home landscape. He needed seed and fertilizer and borrowed tools. I drew the line when we he wanted my brand new chainsaw to take down a tree. I gave him a sharp axe instead. While chopping at the tree, he suffered a heart attack and died, never to bother me again. All the other Chairmen survived their tenure.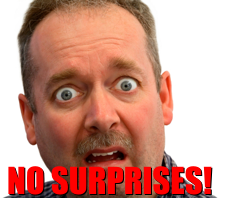 The process of educating the Chairmen involved establishing lines of communication such as written reports and memos. I learned quickly that the Chairmen were not interested in technical explanations. They wanted factual information and no surprises. Knowing full well that action speak louder than words, I made it my business to provide a superior product within the limits of the budget. I also kept track of the playing schedule of my chairman and tried to be around at the clubhouse to welcome him and meet his friends.
I learned quickly that the Chairmen were not interested in technical explanations. They wanted factual information and no surprises.
I kept a low profile at committee meetings, listening rather than talking too much. I presented written reports and kept the minutes.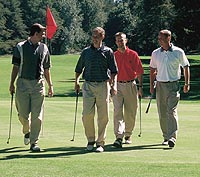 Draft minutes were scrutinized by the chairman and sometimes amended before circulating to other committee members.
Nearing the end of the golfing season, when work pressures begin to diminish, I invited the chairman and some carefully selected committee members to visit and play other golf courses and meet my colleagues. Such excursions were ideal opportunities to create lasting friendships that have endured long after my retirement.
The following was part of the original manuscript of
The Magic of Greenkeeping
but was axed by the puritan editor. The book has sold more than 16,000 copies including a Spanish translation and a second edition. It is still in print.
Many years ago, when I was a rookie superintendent, greenkeeping was quite primitive by today's standards.  We cut the fairways with gang mowers, sprayed for weeds with 2-4-D and Agent Orange, treated dollar spot with PMAS, and snowmold with Caloclor.
Most primitive of all was the watering system. It consisted of many 100- ft. hoses with roller base sprinklers and a few snap-ons for the tees. The night waterman was a key employee during the heat of summer.  We named him "Gunga Din,"  after the water carrier in Rudyard Kipling's poems. He required frequent supervision.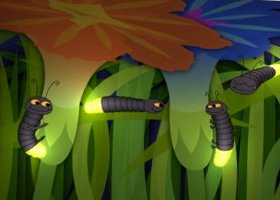 One moonlit night I decided to check on Gunga Din and the sprinklers. As I approached the course, I noticed a peculiar phenomenon: several dancing lights that were moving slowly across the fairways. I was puzzled. There had been a lot of recent talk of Martians invading our planet, and it occurred to me that I was witnessing something special.
I headed for the pump house, where I found Gunga Din fast asleep.  I shook him awake and asked him about the dancing lights on the fairways. He patiently explained that the light was coming from flashlights attached to worm pickers' foreheads as they scoured the grass looking for night crawlers. Each picker also had tin cans strapped to their ankles to hold the worms.
I admonished Gunga Din to get going to change the sprinklers and that I wanted to see some action.  "Well," he responded, "if you want to see some real action, you should check out the 17th green."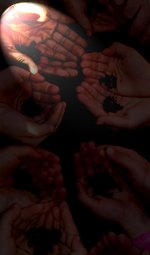 The 17th was a bowl-shaped green that golfers often three-putted and cursed loudly, but on this particular night it was peacefully quiet.  I approached the green by crawling on my hands and knees between the surrounding trees. There before my very eyes were a man and a woman actively engaged in sex. Soon after they reached their moment of ultimate bliss, the man handed the woman two cans of worms and was off.
Soon another fellow appeared and the action repeated itself, but I had seen enough and headed for the clubhouse parking lot to find the leader of the worm pickers. I found him near his trucks and asked if he had permission to pick worms. He explained emphatically that the manager had approved.
I then asked how many worms the pickers collected during a night's work. He explained that on average about 5000, for which they were paid a penny a piece. But there was a female picker he added, who regularly exceeded twice that many.
"She must have nimble fingers," he opined.
But Gunga Din and I knew better.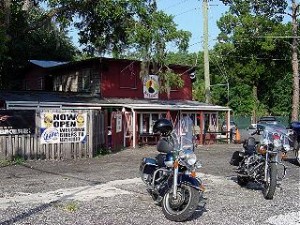 Lucinda was a barmaid at Cheap Charlie's, a local watering hole on Route 52 frequented by motorcycle enthusiasts. One day, after completing her shift, she accepted a ride from one of the regulars, just for the fun of it. With the wind blowing through her hair as they roared down the highway, Lucinda must have been exhilarated. But then an accident happened. She was thrown off the bike and killed instantly.
A lopsided cross and some faded flowers now mark the spot where she met her maker…  a reminder every time I pass it on my bike of the finality of our days and Lucinda's untimely death.
On my bicycle rides, I occasionally stop at Cheap Charlie's for a dollar draft of beer. I had been warned by my poker buddies to stay away from the place at night. It had a rowdy reputation. But, by mid afternoon, on a warm sunny day, I felt safe and I needed to quench my thirst.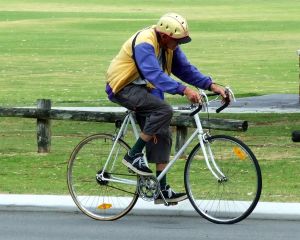 Several motorcycles were parked at the front of the premises. I carefully chained and padlocked my expensive bicycle to a post and moseyed up to the bar. I was seated between two tough-looking hombres sporting pony tails, muscle shirts and tattoos all over their exposed flesh.
Michelle, buxomly barmaid and an apparent graduate from Hooters, served me a Bud.  The fellow to my left eyed me suspiciously and then asked: "Are you biker?"
"I sure am," I replied without thinking, finished my beer and continued my tour of our neighborhood.
In the hills of the Sorrentine peninsula in Italy, on donkey paths between whitewashed villages, I met an English gentleman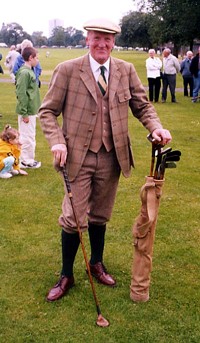 who was part of our walking group. Once he discovered that I was a Canadian golf superintendent, he poured his heart out.  He was a committee man, he said, on an 18-hole course in England. He had even served as green chairman at one time. As we walked through the picturesque Italian countryside with views of the azure blue Mediterranean sea, he told me a familiar tale.
His club in England had experienced a substantial increase in play and decided to renovate its golf course. The construction company they hired persuaded the committee that an architect would not be necessary, since the contractor invariably changed the best-made plans of architects anyway. A decision was made to lengthen some of the holes as part of the renovation.
On the first hole, a new green was built some 50 yards beyond the old one. Thus it was possible to continue play on the old green while the new one matured. But all golfers are impatient and English golfers are no exception. The new green was put into play far too soon with the result that turf quickly deteriorated.
Additional greens were built and the golfers played on several temporary greens for much of the first season of the renovation program that was to be completed over a three year period. Meanwhile the condition of the old course began to deteriorate for lack of attention because of the construction work. Important maintenance work was left undone. The sand bunkers in particular suffered. It was all the fault of the greenkeeper, the contractor said, and the committee listened.
After several written warnings, the committee sacked the greenkeeper.  The less-qualified assistant was promoted and a consultant was engaged one day-a-week to help. More than a third of the renovation program remained to be done. My new friend, the committee man, was facing yet another summer of discontent on temporary greens. Where had they gone wrong, he wondered?
I patiently explained that renovation work on a golf course should never be attempted without direction of an experienced architect, regardless of the assurances offered by the contractor…
As we climbed the narrow stairs of Positano, walked on cobbled streets in Pompeii, and stood on the ruins of Tiberius' villa on Capri, the fate of my unfortunate sacked colleague in England weighed heavily on my mind.
"What could we have done better?" the committee man asked. I patiently explained that renovation work on a golf course should never be attempted without direction of an experienced architect, regardless of the assurances offered by the contractor.  So much can go wrong, and so much had gone wrong. The golfers had suffered from inferior playing conditions and a man had lost his job needlessly… all because of an unscrupulous contractor.