Be Safe, Have Sandy Do It.
As the east coast braces for the Hurricane Sandy, I had a thought as I was getting the farm ready for the storm. There are a few trees I want down but cannot convince my wife to agree. The I thought I had was "why not have Sandy do it"? I can use a chainsaw very quickly.
A tree on my farm is more of an inconvenience than a problem. Yet I can hardly think of a golf course that does NOT need some strategic tree removal. Removal that is blocked by emotion and politics.
Year after year the turf struggles in the "tucked" locations. Fans can provide some benefit but natural light and air movement at least 3 mph at the ground surface makes the difference between a marginal putting surface and an excellent putting surface. For many this has been worse the last few seasons with intense climate changes of high temperatures and increased rainfall. More reason to modify the growing environment.
Now the last thing I would promote is for golf course superintendents and staff to be out and about in the storm. So for sure safety has to be the number one issue. No need to wander out into 30-50 mph sustained winds. However, when the worst of the storm is over before most of the world walks outside again, especially at this time of year, one never knows how the wind can blow, or the chainsaw turn.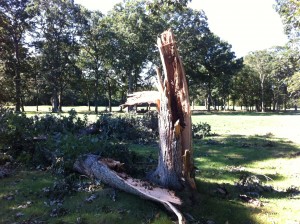 Just between us, the tree that was an immovable object miraculously was felled by Sandy. Be SAFE.