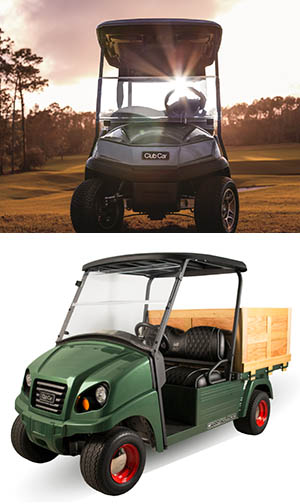 This year is a significant one at GIS San Antonio for Club Car (booth #19076). Celebrating its 60th anniversary, the company is launching the new Tempo Connect golf car (above right).
On the cutting edge of technology, the Tempo Connect comes outfitted with the Visage Fleet Management system and the Shark Experience.
Tempo Connect is designed with automotive styling includes a sleek front cowl, rust-proof aluminum frame, alloy wheels, improved seating and dashboard.
The Visage Fleet Management with integrated car and course controls for golf course operators and their staff to monitor fleet performance from anywhere. Golf course operators can track their fleet, spot slow groups and manage traffic by preventing access to sensitive areas on the golf course.
The Shark Experience, from The Greg Norman Co. and Verizon, allows Club Car to deliver the in-car course entertainment system that includes access to live sports, music, Greg Norman golf tips, dynamic yardage information and more for an all-in-one entertainment experience.
As part of the 60-year anniversary celebration, Club Car will auction a Special Edition Carryall 500 Woody Wagon (below right).