True Performance: golfers want it, LebanonTurf has it. And so can you.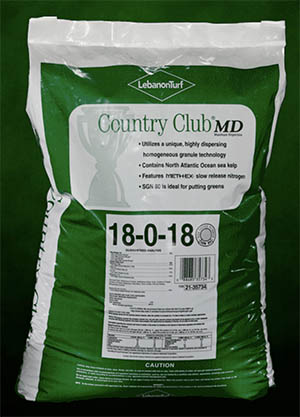 True Performance is the name LebanonTurf gave a new agronomic program the company launched this year at GIS in booth 6069. The True Performance program combines granular and foliar nutrition via LebanonTurf's Country Club MD and Emerald Isle nutritional products.
"We know superintendents depend on LebanonTurf products to deliver results; it's their livelihood," said Chris Gray, golf channel manager at LebanonTurf. "With this program, we're offering a proven strategy that will give them confidence in their putting greens, arguably the most important part of their course."
Country Club MD granular products provide long-lasting nutrition while Emerald Isle foliar products provide quick and effective feeding and biostimulants that can promote benefits including stress and disease tolerance in putting green turf.
The program was gleaned through research from Purdue University and the University of Arkansas that showed the True Performance method can help deliver season-long, high-performing putting greens. The 2016 study tested six different season-long nutritional programs featuring Country Club MD and Emerald Isle solutions to find the most effective program. Researchers measured the programs based on multiple indicators, including visual turf quality, color and stress tolerance.