Nufarm kicked off its inaugural EXCEL Leadership Program at this year's GIS.
Forged in accord with the GCSAA, the program offers career-development opportunities for assistant superintendents from the United States and Canada.
The program includes five days of education at GIS with leadership training in career, community and industry stewardship.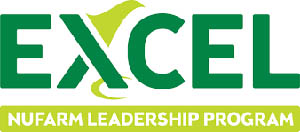 The inaugural class includes: Jens Arneson of Maple Bluff Country Club in Madison, Wisconsin; Travis Cook of The Country Club of Birmingham in Birmingham, Alabama; Phillip Fischer of Brickyard Crossing Golf Course in Indianapolis; Zachary Fleegar of Stowe Mountain Club in Stowe, Vermont; Richard K. Haines of Onwentsia Club in Lake Forest, Illinois; Stephen Hicks of Brantford Golf & Country Club in Brantford, Ontario; Joshua S. Lemons of Golden Valley Country Club in Minneapolis; Jessica K. Lenihan of Hayden Lake Country Club in Hayden, Idaho; Tyler R. LePore of Talisker Club at Tuhaye in Park City, Utah; Brycen Meng of Indian Hills Country Club in Mission Hills, Kansas; Mitchell E. Savage of Green Valley Ranch Golf Club in Denver; Steven Shavel of Double Eagle Club in Galena, Ohio.
This year, EXCEL members attended advanced career-enhancement educational sessions on including seminars on decision-making, leadership and networking strategies. They will be recognized during the opening session ceremonies on Feb. 7.
The 12 program members also will participate in two-day training sessions at Nufarm's headquarters in Alsip, Illinois, and GCSAA headquarters in Lawrence, Kansas, each year of the three-year program cycle.
Learn more about the EXCEL Program and how to apply for the next class at the Nufarm booth (#20071).