PBI-Gordon (#9070) rolled out its new Tekken fungicide at GIS San Antonio.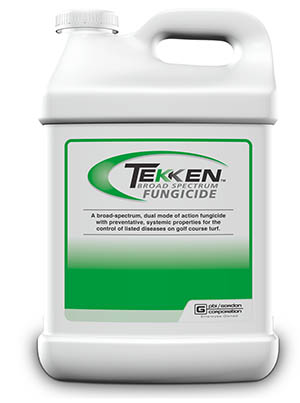 A combination fungicide with the active ingredients isofetamid and tebuconazole, Tekken is labeled for control of 20 common turf diseases in golf course greens, tees and fairways.
It's dual mode of action offers preventive, systemic control for up to 28 days per application.
Tekken also can produce benefits including increased turf quality and reduced phytotoxicity and thinning of creeping bentgrass, compared with standalone DMI applications.
Tekken can be used throughout the year, but extensive testing by universities and end users has shown it is most effective at controlling summer stress diseases like dollar spot, brown patch and anthracnose.
A FRAC Group 7 + 3 flowable suspension concentrate, Tekken should be used in a regularly scheduled preventive spray program and rotated with products that have different modes of action.
In other news, the U.S. EPA registration is now pending for a a new non-phenoxy, three-way herbicide from PBI-Gordon that will be branded as SwitchBlade.
SwitchBlade includes three active ingredients: halauxifen-methyl, fluroxypyr, and dicamba. Research has shown that, when combined, these active ingredients provide extended post-emergent control of 34 broadleaf weeds.
The active ingredient halauxifen-methyl is from a new class of systemic auxin herbicides, called Arylpicolinates. Rapidly absorbed by leaves and to a lesser extent the roots of sensitive plants, it mimics the plant growth hormones and disrupts the weed's growth process.
For use on warm- and cool-season turf, it can be applied year-round.