Superintendent of the Year Finalists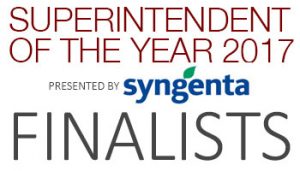 The five finalists for the TurfNet Superintendent of the Year Award, presented by Syngenta, were chosen by our panel of industry judges from a list of 45 nominees. Criteria on which nominees are judged include: labor management, maximizing budget limitations, educating and advancing the careers of colleagues and assistants, negotiating with government agencies, preparing for tournaments under unusual circumstances, service to golf clientele, upgrading or renovating the course and dealing with extreme or emergency conditions.
Finalists are
 The winner of the 18th annual award will be named at 2 p.m. Feb. 8 at the Syngenta booth (#16065) during GIS, and will receive a trip for two on the TurfNet members trip to Ireland in October, courtesy of Syngenta.
---
Recognizing the accomplishments of superintendents for a decade
"To recognize the hard work superintendents do on and off the course, Syngenta is proud to sponsor the Superintendent of the Year award for the 10th consecutive year. We applaud your dedication and passion for this industry as well as your determination to conquer its challenges, and we are excited to celebrate your hard work and success. Congratulations to all of the finalists nominated for the 2017 TurfNet Superintendent of the Year.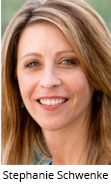 From proper planning, to hiring and mentoring employees, to conditioning your greens and fairways to perform at their best and quickly recover from stress, we are constantly impressed by how you go the extra mile when managing your course and teams. Through reviewing the many nominations for this award, we've seen how you continue to adapt your skills to perform at the highest level. We commend your attention to detail and commitment to producing outstanding aesthetics and playing conditions for your customers.
Our admiration and respect for you and this industry continues to grow as we honor another outstanding class of finalists for this award. Congratulations on your achievements; we appreciate your hard work and thank you for inspiring us. We wish you all the best in 2018."
Stephanie Schwenke, Turf Market Manager, Syngenta
---
Previous winners include:
Dick Gray, PGA Golf Club, Port St. Lucie, Florida (2016);
Matt Gourlay, Colbert Hills, Manhattan, Kansas (2015);
Fred Gehrisch, Highlands Falls Country Club, Highlands, North Carolina (2014);
Chad Mark, Kirtland Country Club, Willoughby, Ohio (2013),
Dan Meersman, Philadelphia Cricket Club (2012), Flourtown, Pennsylvania;
Paul Carter, The Bear Trace at Harrison Bay, Harrison, Tennessee (2011);
Thomas Bastis, The California Golf Club of San Francisco, South San Francisco, California (2010);
Anthony Williams, Stone Mountain Golf Club, Stone Mountain, Georgia (2009);
Sam MacKenzie, Olympia Fields Country Club, Olympia Fields, Illinois (2008);
John Zimmers, Oakmont Country Club, Oakmont, Pennsylvania (2007);
Scott Ramsay, Golf Course at Yale University, New Haven, Connecticut (2006);
Mark Burchfield, Victoria Club, Riverside, California (2005);
Stuart Leventhal, Interlachen Country Club, Winter Park, Florida (2004);
Paul Voykin, Briarwood Country Club, Deerfield, Illinois (2003);
Jeff Burgess, Seven Lakes Golf Course, Windsor, Ontario (2002);
Kip Tyler, Salem Country Club, Peabody, Massachusetts (2001);
Kent McCutcheon, Las Vegas Paiute Golf Resort, Las Vegas, Nevada (2000).